All quiet on the Western front…of the Hudson Bay that is… in Churchill, Manitoba. And, fairly warm for December for sure. Temperatures in the mid-teens persisted throughout the week. As the polar bear season becomes a distant memory for all, the town itself has slowed to a  crawl despite the heat wave of sorts.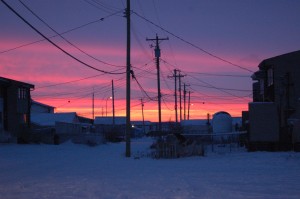 Most of the restaurants and a good many hotels have shut their doors for the Winter. Gypsy's Bakery closed on November 30th and will re-open in early Spring. While the local mainstay has stayed open much later in recent years, sometimes through Christmas, the DaSilva family opted to close slightly earlier this time around…maybe to head back to visit family in Portugal for the holiday's. Really, the only larger establishment in town still open is the Seaport hotel and restaurant on Kelsey Boulevard in the center of town. Mayor Mike Spence and his wife Lawreen have made a commitment to remain open for townspeople and Winter travelers all year long….the hot coffee flows all day.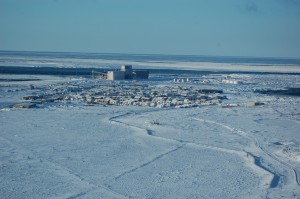 While the recent warmth has allowed local Churchillians to roam the land in the region without much discomfort, the polar bears are surely gone for now. The open water leads in the Hudson Bay are a product of the flowing river water emptying into the bay. However, the bay in general to the North, has supported enough ice to allow the bears to pursue their Winter diet of  ringed seals.  Open water on the Western half of the Churchill River has forced avid outdoors men and women to track further up-river to cross on snow machines. The increased current and tide flow nearer the port affect ice formation and thus passage across this time of year.  Some locals maintain rustic cabins across river scattered on the tundra…used as get-away respites from the hustle and bustle of metropolitan Churchill proper.  The old White Whale Lodge that used to be nestled in the sandy dune of the river bank almost directly across from the grain port, used to feel like a million miles away from civilization. Unfortunately flames reduced the structure to ashes some years ago.
While things are slow in Churchill over the next several weeks, I would like to give you all some characteristics of the "other" inhabitants of the region that don't quite get the press that the majestic polar bears do. No..not the local people…although I will , from time to time, bring their stories to light as well. Their are a number of animal species that ride out the brutally cold Winter days either by choice or evolutionary ties. I'm sure describing some of their behavioral habits will open your eyes to their strength and perseverance.
Our first, the gray jay or whiskey jack,..from the family Corvidae, which includes ravens, jays,magpies and nutcrackers are widespread in the forested areas of Churchill. Anyone who has taken a dogsled excursion from one of the local operators has surely observed this bird flitting away and back around the base camp. Natural scavengers at heart, the name whiskey jack is derived from an Algonquin name -Wisakedjak- for a mischievous and disobedient mythical creature. One surely gets this feeling from the body language and vocalizations of this bird.
Gray jays mate for life and are territorial in feeding and nesting habits. Because they do not migrate or interbreed among their species, they are well adapted to specific local cold conditions as well as short growing seasons. They feed on a wide variation of insects, small animals such as frogs and moles as well as mushrooms, seeds and berries. Well adapted gray jays are able to reproduce at a relatively early point in the "season". Between two and five eggs are laid as early as February when most if not all of their natural food source remains out of reach. What's their secret?
As a guide for over 15 years in the Churchill region, the word I spoke most often to travelers was "adaptability" or some form of it. Every living being, including humans, living in the North has to find ways to adapt to life there on a constant daily basis. The ones that cannot are forced to leave or die..the ones that can, find their spirit.
Gray jays spend most of the year preceding reproduction harvesting their food for Winter. They work countless beak-fulls of food into a sticky paste moistened by saliva. They cache these life giving treasures in a mentally mapped network of hidden places. Usually these spots are under flakes of spruce bark or amongst needles on evergreen branches safe from drifting snow or predators. These stored packets allow the jays a head start to life in the region before any of their migrant winged counterparts return from their warm Winter ranges much further South. Not everyone can afford a tropical home as you know. So instead of exhausting all that energy flying thousands of miles, gray jays opt for solace in the splendid boreal forests of the arctic landscape.