Temperatures moved up over the freezing mark with sunny skies overhead. This slight warm-up, somewhat unusual, is a reprieve from the wind- chills of the past week.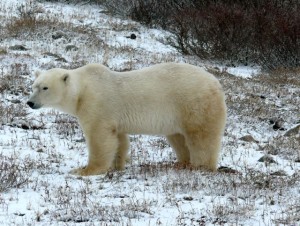 Guide Sandra's group was out on the land in CWMA and early on viewed a male polar bear striding gingerly on his back toes across an icy thermakarst. With the soft light of the pinkish sunrise surrounding the tundra, the scene was a great start to the day.  Later out around the tundra lodge, two sub -adults sparred with each other for what seemed like hours. Bouts of play- fighting seem to last longer now with increased stamina. With the temperature a little higher some tension was evident as aggressive behavior by some sub-adult males towards a couple of females spurred some frothing and muffled growls by the females.
Guide Paul and group were out exploring the area around Churchill and spotted a polar bear down near the grain port ponds. They followed in there bus as the bear moved behind the Anglican church at the corn er of town by the Hudson Bay. Soon Manitoba Conservation officers were on the scene chasing the bruin off with cracker shells. The bear disappeared over the rocks heading in the direction of Cape Merry. This bear was a "release" bear having been captured earlier in the season. Green paint on the shoulder identifies such animals.
Travelers with guide Brad were also out exploring when they came upon the old downed transport airplane on the coast road. Overloaded with soda cases and supplies heading North nearly 30 years ago, it could not get enough lift and crash landed softly in snow drifts amongst the rocks. The two pilots walked back to the airport to report their own crash.  The group was taking some photo's when a red fox appeared from the willows. Wildlife can be anywhere in the Churchill region.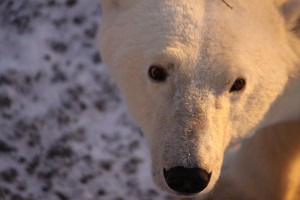 Later on their night rover trip to the CWMA, they viewed some male polar bears moving slowly around the lodge and a sow with coy keeping their distance from the area on the approaching trail. With all the big males in the area mom was keeping a watchful eye on the little one.