Southerly winds and scattered rain amongst the lowland fog accentuated the landscape out on the tundra in the Churchill wildlife Management Area. Temperatures in the mid to higher 30's C gave the air just enough crispness to enliven the sighted polar bears. A wide range of Arctic wildlife complimented the bears as well with numerous sightings reported.
This time of year, in the early Fall season, many creatures in the North start or already have morphed their furry coats to white even though the snow has not arrived. The biological clock controlling the morphing is more dependent on the time of year than the weather. Polar bears of course keep their white look all year…others like Arctic Fox, Arctic Hare, ptarmigan, snowy owls and some other birds do make the change to a coat that will blend with the forthcoming snow. For now however the animals are more easily spotted out on the tundra.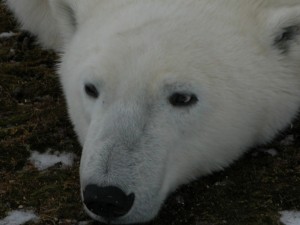 Guide Melissa Scott escorting her Natural Habitat group out over the wet, foggy tundra came across their first polar bear quite near the rover launch area munching on a caribou carcass by himself…quite the find for the bear and the travelers literally right out of the gate.  Another  two bruins were sighted out near the coast road and another slightly more inland rolling on his back playing with a spruce twig. a few other bears were spotted lazily napping in the willows trying to shield themselves from the weather.
Four Arctic foxes were spotted congregating around the rover and actually staying near the machine feeding on various tid-bits of foliage and ground fodder. This behavior was a little out of the ordinary for the normally slightly skiddish foxes…at least in the presence of a giant rover with 16 or so humans inside. As the group headed back toward the tundra lodge inside of the coast road an Arctic hare with a soggy white coat scampered through the brush along the trail near ptarmigan alley. As they finished up an afternoon of good viewing,  A big male bear greeted them as the rover pulled up to the tundra lodge. All in all a great day!
Guide Eric Rock had similar varied wildlife sightings as his group roamed around the CWMA in their tundra rover. Arctic fox and hare were spotted and photographed and an initial gyrfalcon soared overhead.  A half dozen bears were spotted and by and large (yes large) the animals were reported to be in good shape despite the late freeze-up of the Hudson Bay last season.The most healthy polar bear was the one still devouring the caribou carcass near "lunch-site"…er sorry launch-site.
This year, not just this season, there have been 180 bear alert calls. As of this date there are currently nine  bears in the polar bear compound.